About
Babür K. Incedayı is a professor of interior and industrial design in İstanbul. He studied in the Academy of Fine Arts at the Department of Interior Design in Istanbul and graduated in 1969. Between 1969 and 1974 he studied and worked in Italy and did some researches in Rome and Milan in the area of industrial design. İn 1975 he returned to Turkey and has started to teach at the Academy of Fine Arts, in the Department of Industrial Design. In 2003 he established a new department called "Art and Design" at the Yeditepe University in İstanbul, and is still heading and teaching in this department. Professor İncedayı has a lot of degrees in international competitions of art and design and he participated in some exhibitions and fairs in Turkey and abroad. Some of his designs have been published in the international journals such as, Interforniture, Interni, Casa Vogue, Vomo Vogue and Arreda. In his work he specially focuses on the reproduction of the traditional forms and values in the modern design, and on transmitting them in today's life. In his private exhibition named "Forming from the Past to the Future" in 2004 in İstanbul he shows the inspirations from the ancient times and their reflections on today's industrial design. İn the year of Mevlana in 2007 he has prepared a new collection of design related to the research of Mevlana due to the Year of Mevlana announced by Unesco.
Design Boom Beyond Silver-Milano Italy International Silver Jewelry Competition, December 2008. (finalist)
Design Turkey Design Awards, 2008 İstanbul Exhibition (finalist)
"Mevlana Exhibition", Art 8 Galery in the Sofa Hotel, Istanbul, October 2008.
Konference titled "Arte e Designo in Turco), Fine Arts Academy of Roma, Italy, 2010.
Private exhibition titled "Shapes from Past to Future", Galery Art Depo, Istanbul, May, 2004.
Paintings and Graphics for the Archeological Museum in Tekirdağ, Turkey, 2011. (museums exhibition)
Collective exhibition titled "States of Material", Art Galery Armaggan, May-August 2012.
Private exhibition for "Şeb-i Aruz" program of the Konya Governorate in Konya, December, 2013.
Collective exhibition titled "New Meeting" for Yeditepe University artists, Artisan Art Galery, Istanbul, January 2013. Special exhibited objects designed for the Armaggan Art Stores special collection, approx. 20 design object in the permanent exhibition, Istanbul, 2008-2014.
Private exhibition titled "Traces and Dreams, A Design Voyage", Armaggan Shop, Special Design Collection and Exhibition, May 2014, Istanbul.
Jim Walrod – The Radical Lighting Collection of Jim Walrod March 31- April 19, 2015 New York, USA
Exhibit of Dervish Convent Objects Among Turkish Community Maryland USA October/November 2015
Exhibition " Designs Tracing Civilizations" 3rd of March, 2018 - 10th of May, 2018 RC Art Gallery / Bilkent Art Street Ankara
---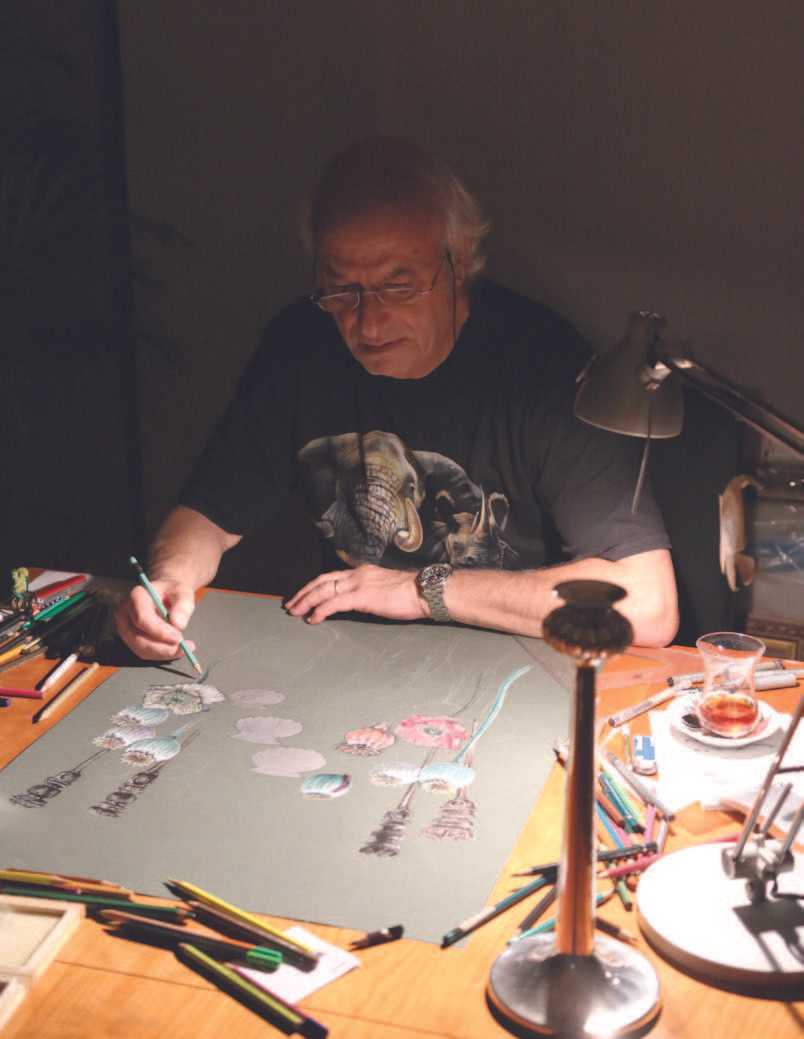 1945 yılında İstanbul'da doğdu. 1969 yılında İstanbul Devlet Güzel Sanatlar Akademisi İç Mimarlık Bölümü'nden mezun oldu. 1969-1974 yılları arasında İtalya'da Roma ve Milano'da endüstri ürünleri tasarımı alanında araştırma ve çalışmalar ı nı sürdürdü. 1975'de Türkiye'ye dönerek 1975-1979 yılları arasında İstanbul UESYO'da Endüstri Ürünleri Tasarımı Bölümü'nde, 1979-2000 arasında ise Mimar Sinan Üniversitesi Endüstri Ürünleri Tasarımı Bölümü'nde öğretim üyeliği yaptı. 1998 yılından başlayarak Yeditepe Üniversitesi İç mimarlık ve Endüstri Ürünleri Tasarımı Bölümlerinde görev aldı. 2003-2004 Güz Yarıyılında aynı kurumda Sanat ve Tasarım Bölümünü kurdu ve halen bu Bölümün Başkanlık görevini yürütmektedir. Ayrıca 1999-2000 yılından başlayarak Haliç Üniversitesi İç Mimarlık Bölümü'nde de öğretim üyesi olarak görev yapmaktadır. Eserleri uluslararası sergi ve fuarlarda yer almıştır ve uluslararası yarışmalarda dereceleri vardır.
Uluslararası Mobilya Tasarım Yarışması Cantu / İtalya, Eylül 1971;
Uluslararası Tasarım Yarışması Kortrijk / Belçika 1973;
Uluslararası Takı Tasarımı Sergisi, Milano / İtalya 1972;
Uluslararası Arango Tasarım Yarışması, Miami / USA, 1982, proje Miami Modern Sanatlar Müzesi'ne alındı.
Ayrıca, İtalya'da ve Rusya'da entegre sistem üretim tesislerinin kuruluş görevlerini üstlenmiştir.
2005-2006 Akdeniz Üniversitesi Arkeoloji Bölümü kapsamında Patara Örenyeri Roma feneri kazı çalışmaları rölöve projesi. 2005-2006 İstanbul Arkeoloji Müzesi rölöve çalışmaları.
Design Boom Beyond Silver-Milano İtalya Uluslararası Gümüş Tasarım Yarışması Aralık 2008 ( Finalist).
Design Turkey Tasarım Ödülleri 2008 İstanbul Sergisi (Finalist)
Art 8 Lounge Galeri ( Sofa Hotel) Hoşgörünün Çağrısı Mevlana Kişisel Sergi Ekim 2008.
"Türkiye'de Sanat ve Tasarım" (Arte e Design in Turco), 2010, Roma Güzel Sanatlar Akademisi.
"Geçmişten Geleceğe Biçimlemeler", başlıklı kişisel sergi, Art Depo, İstanbul, Mayıs 2004.
Tekirdağ Arkeoloji Müzesi İçin Desen Çalışmaları, Tekirdağ, 2011. (müze sergisi)
"Maddenin Halleri" (States of Material) başlıklı kolektif sergiye katılım, Armaggan Sanat Galerisi, İstanbul, Mayıs-Ağustos 2012.
TC Konya Valiliği, İl Kültür Müdürlüğü Şeb-i Aruz Programı Mevlana Sergisi, Konya, Aralık 2013.
"Yeni Buluşma" başlıklı Yeditepe Üniversitesi Öğretim Üyeleri Karma Sergisi, Artisan Sanat Galerisi, İstanbul, Ocak 2013.
"İzler ve Düsler, Bir Tasarım Yolculuğu" başlıklı kişisel sergi, Armaggan Mağazası, Özel Tasarım Koleksiyonu ve Sergisi, Mayıs 2014, İstanbul.
Jim Walrod The Radical Lighting Collection of Jim Walrod Mart 31 – Nisan 19, 2015 New York, USA
Turk Dunyasi Tekke Objeleri Sergisi Ekim/Kasim 2015 Maryland USA
"Uygarliklarin Izinde Tasarimlar" Sergisi 3 Mart 2018 - 10 Mayis 2018 RC Galeri / Bilkent Sanat Sokagi - Ankara